Richtersveld - April 2011
After much anticipation and preparation we finally departed from Brackenfell (2 hours late) for the Richtersveld and destinations beyond. But first we would stop over at Nuwerust Restcamp in the Cederberg to acclimatise and get into camping mode. http://www.cederbergexperience.co.za
After a last stop in Ceres to buy some biltong and a few tomatoes, we headed out towards Op-die-berg. The skies towards our destination looked dark and cloudy,and by the time we reached Op-die-berg it came down in buckets. It has been ages since I drove in a thunderstorm of that magnitude, and with visibility down to a few meters, we slowed down to a crawl. The dirt road was quite wet and slippery and in places the low-water bridges were flooded. We passed Mount Cedar without a problem, but after the mountain pass our troubles started. About 5km from Nuwerust, I pushed in the clutch to change gear and there was no resistance, no clutch.! Luckily I know how to change gears without clutch and after we stopped to look under the bakkie, only to find streams of hydraulic fluid running out of the clutch slave cylinder. We drove the last bit to Nuwerust without clutch. It was dark by the time we arrived.
Nuwerust - Cederberg
The owners of Nuwerust, Steven and Louise, made us feel at home immediately. The let us use their phone to call Allan, and because there was another shower on its way, they offered us a cottage in stead of letting us put up camp in the dark, and rain. The next morning, with Steven's help, I got under the bakkie and took the clutch slave cylinder off. The seals were completely disintegrated. Luckily Allan was in Clanwilliam visiting friends for the weekend, and offered to pick up a new set of seals, and drop them off on his way back to Cape Town on Sunday. Without much more to do, we went and spent a couple of hours in the nice lapa, watching the Bulls lose to the Reds. We spent some time watching 2 rock climbers climb a huge cliff across the valley. Later the afternoon we went back to the lapa to watch the Stormers beat the Lions. Sunday afternoon came and Allan and his rescue party arrived with the seals. Ooops, the wrong seals.
This meant that we, and the Ford, had to return home to get the right stuff first thing Monday morning. Without a clutch to pull away or change gears, all along the track back to Ceres, crossing a couple of mountain passes. Anyway, all went well without the luxury of a clutch, and before dark, we pulled into Brackenfell. Cudo's to Allan for making the detour, and going to all the hassle, but his generosity didn't stop there. At about 9pm, he called, and we decided to go down to his workshop to see what we could do to get the Ford mobile before midnight. At about 11pm he completed his emergency mechanics, and we were ready to rock and roll once more.
Thanks Allan for going out of your way to help us in our hour of need. Some of the scenery at Nuwerust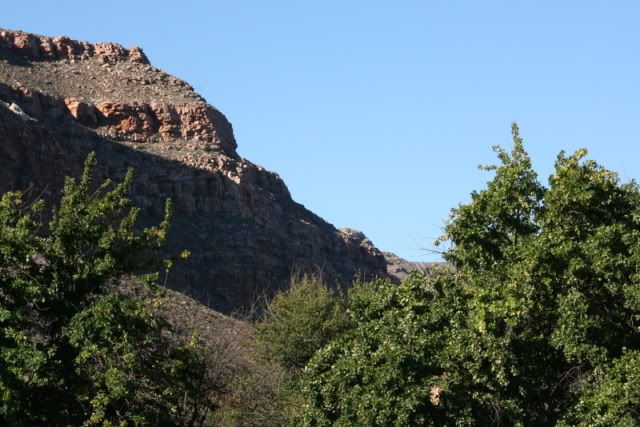 Richtersveld
Monday morning at 3am our alarm clocks went off, and after a quick cup of strong coffee and a few rusks we were on our way. Our little detour to Brackenfell meant that we missed our appointment with a campsite in Mc Dougall's Bay in Port Nolloth, but we were determined to be in the Richterveld National Park before sunset on Monday, to stick to our original schedule. The drive up to Port Nolloth, Alexander Bay and Sendelingsdrif went without a hitch and at 5pm we were setting up camp at Potjiespram. On closer inspection I saw that we lost one of the front spotlights to a rock kicked up by one of the oncoming mining vehicles we encountered between Alexander Bay and Sendelingsdrif. Bummer, they were nice lights. After 13 hours on the road we were pretty tired, so after a quick braai and a couple off stiff cold ones we were in bed snoozing like babes. Deflating tyres when we hit the dirt.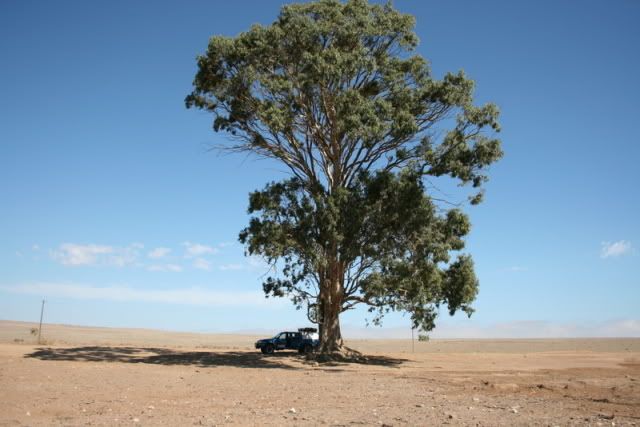 Camp at Potjiespram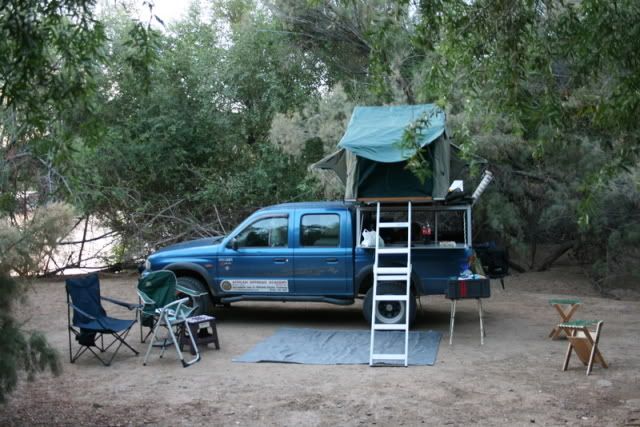 Sunset at Potjiespram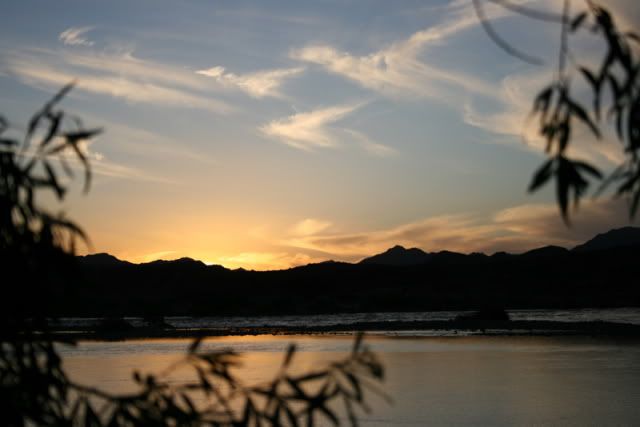 Getting things level
Some langhaar outjie also came to visit
We packed up the next morning and left for De Hoop. The trip was once again uneventful and we took in the awesome landscapes the Richterveld has to offer. The rock formations and the vegetation in these areas is truly amazing. As we drove along we could see signs of quite a bit of rain as the veld was green in places, and some of the dry riverbeds shows signs of water flowing recently.
Some creative stone work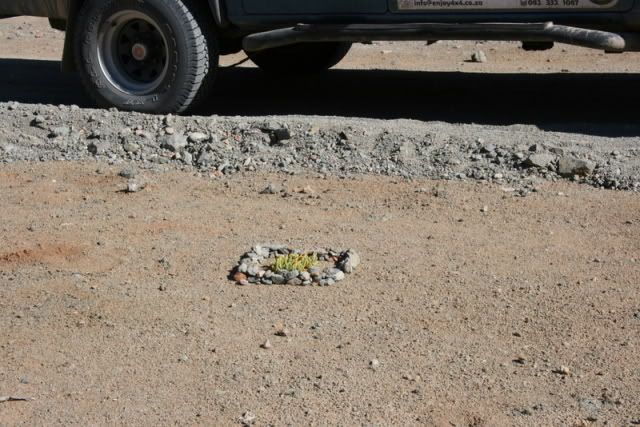 She talks to half humans
Akkedis what?
Once we arrived at De Hoop we struggled to find a suitable campsite, as there were lots of people around. The wind was also particularly hot and nasty blowing fine dust everywhere. Evidence of the high levels of the Gariep in flood recently was visible everywhere, with debris stuck in the tree-line quite a way from the current level of the river. Although still pretty full and flowing strongly the Gariep was at least back running along its normal course. It did sound like we were camping by the sea-side though. After much scouting and contemplating we finally crossed the little rocky outcrop behind the ablution blocks and found a nice campsite on the other side. There were 2 other parties camped there, but it seems like the lot on the other side didn't think to come look on this side for a nice campsite. We ended up right next to the ablutions, sheltered from the dust and wind. It took much digging and lifting but we finally got the Ford sort of level for us to sleep comfortably in the RTT. A braai later, and watching the moon rise over the mountains on the other side of the river we went to bed, tired but satisfied.
Our camp at De Hoop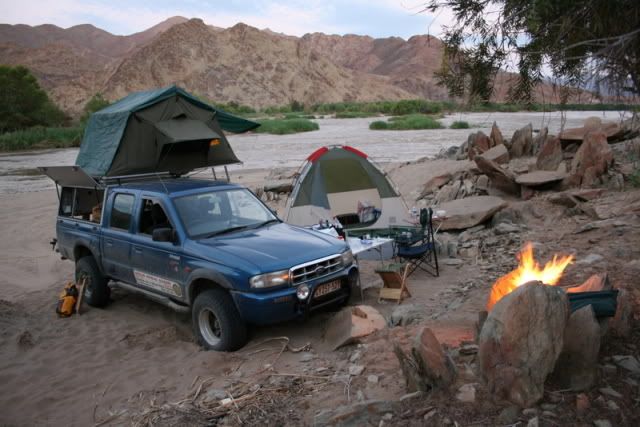 Give her bread and she's happy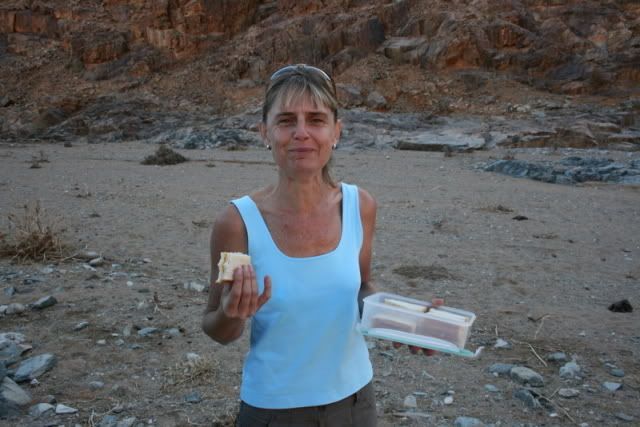 After a quick brekkie we broke up camp and left for Tatasberg, where we would treat ourselves to 2 nights in the luxury of the reed cabins. Tatasberg was closed for 4 months due to the recent floods, and we were some of the first visitors allowed back in after they cleared the road. On the way there we came across a boat-house, and we also happened upon a stricken Prado with 3 wheels. This is not a place for sissies it seems, only the toughest survives here.
The poor Prado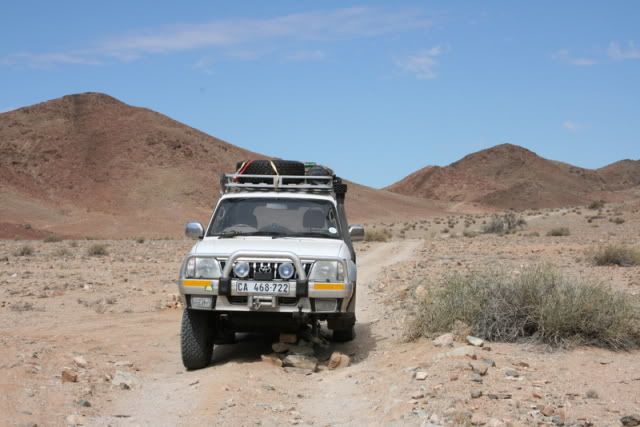 Arriving at Richtersberg campsite, however, I made the startling discovery that the Ford was driving with one really skew front wheel. Looked like it was set up for the Nascar circuit. The 3 bolts holding the upper control arm and the top wishbone of the suspension together were sheared off. It seems like the one was loose for quite a while and that the continued driving on corrugations and rough roads caused the other two to break off, and with one of the last rocks we traversed before reaching Richtersberg the last one also said its good-byes. Luckily we heard the bang and 400m later, once we reached level ground, we stopped. We pulled in at Doringboom Motors, and once the Ford was jacked up, and a solid piece of quartzite rock placed under the cross member to make it stable, Bush Mechanics 101 kicked into gear. With the help of Abie, a local goat herder who gave lots of advice, and also carried a rock or 2, I had the situation under control, and in my little box of nuts and bolts I found 3 replacement bolts, to get us up and running again with all 4 wheels pointing in the same direction.
Bushmechanics 101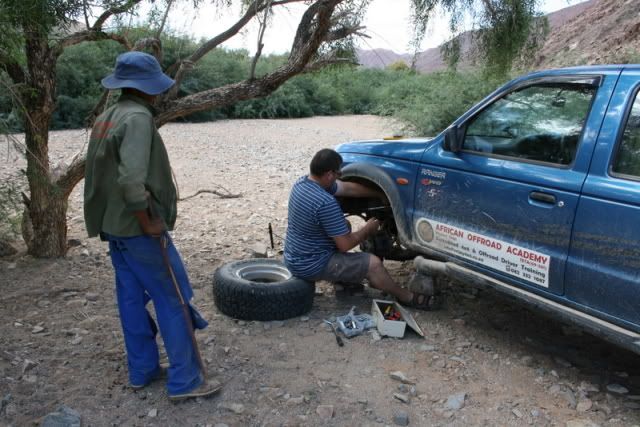 Using a 13 socket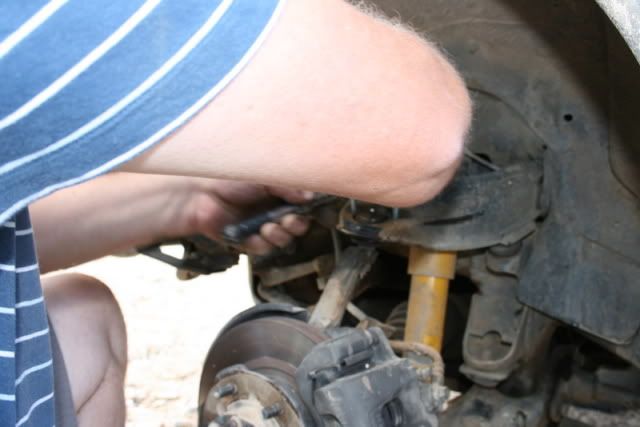 Tatasberg's reed cabin was a welcome respite from wind and dust, and no sooner had we unpacked or a thunderstorm broke loose, cooling things off considerably. There's nothing like a thunderstorm in the desert. In one word, awesome. It's raining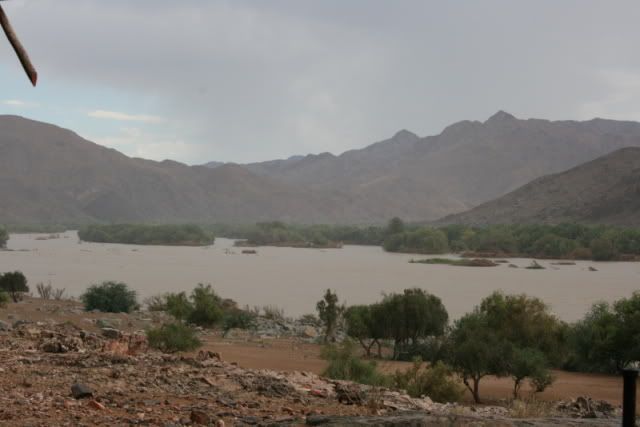 Building a rock pile to show East and West
Our cabin
During our "off day" at Tatasberg we drove out to find the Prado still deserted on 3 wheels. We visited the Kokerboomkloof campsite and "The Toe", another one of the awesome rock formations in the Richtersveld. On our departure from Tatasberg the next morning we found that the Prado was fixed overnight, and on its way to Cape Town already. We drove across the Helskloof Pass to Sendelingsdrif where we spent our last night in the Richtersveld. We booked a campsite,but we got a chalet! Seems like it was our lucky day! The recent floods knocked the pontoon out of action and it will not be operational for a few months to come so no border crossing to Namibia is possible at Sendelingsdrif. Not that we wanted to cross, just FYI. I must add that the staff of the Richterveld National Park works on Richterveld time, which is about 15 minutes behind normal time, BUT they are friendly and accommodating, and really helpful, which makes up for it and more. En niks jaag jou mos anyway in die Richtersveld nie.
The Toe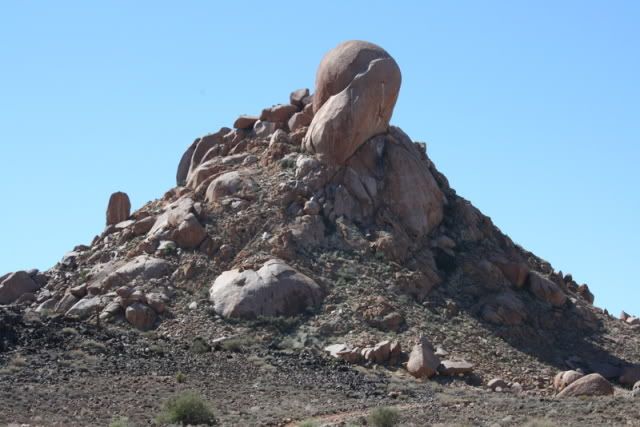 Springbokvlakte
Kokerboom Kloof camp site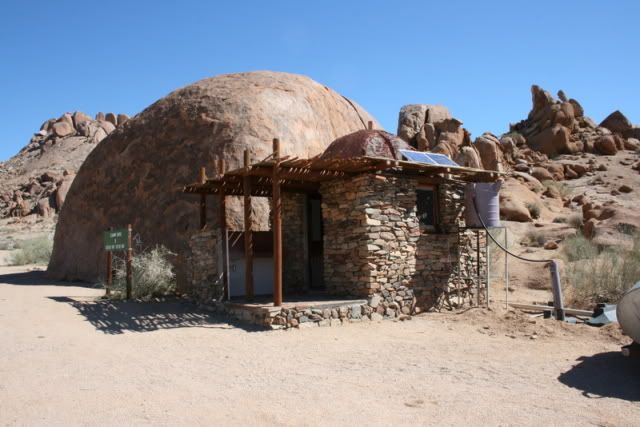 Wondergat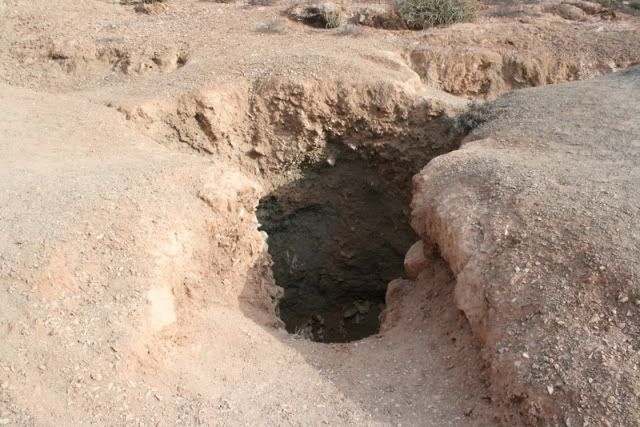 Pofadder - Muskiet
We departed Richtersveld National Park via Eksteensfontein, where I bought their entire stock of KWV 3 Year brandy. I took the last bottle on the shelf, and the price wasn't too bad either, a mere R10 more than in the bottle store back home. We took the road to Vioolsdrif from Eskteensfontein and drove past the petroglyphs with ancient San rock engravings on them. Pity there live some savages among us today who defaced it with their own petty graffiti. The road was very bad in places, but nothing the Ford couldn't handle. From Vioolsdrif it was plain sailing on the N7 to Springbok, and then the N14 towards Pofadder, where we spent the night at Kleinplasie. But not before we watched the Sharks and the Hurricanes play in the Public Bar of the Pofadder Hotel where Themba is the barman who hails from Aliwal-North. Very friendly guy who made us feel right at home. After the match we had a lekker home cooked meal at the Hotel. Pofadder should really consider a name change, to Muskiet. We were eaten alive that night. No amount of Peaceful Sleep or Khakibos Cream would keep the critters at bay. But luckily with the help of 2 mosquito nets, we made it through the night. Our next port of call was Upington where we did some shopping for provisions, and spent a night with family on the farm on our way to Witsand Kalahari, near Postmasburg.
Eksteenfontein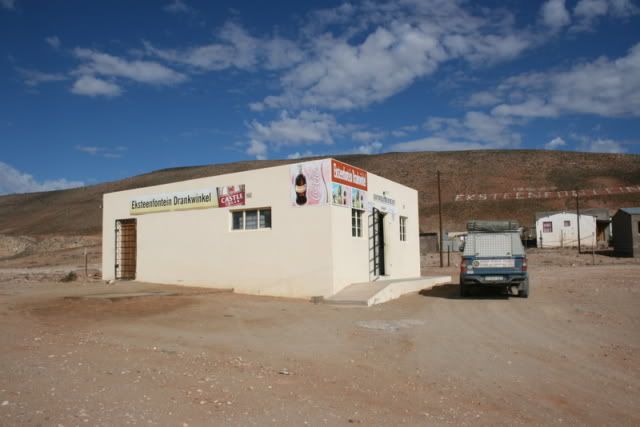 Petroglyphs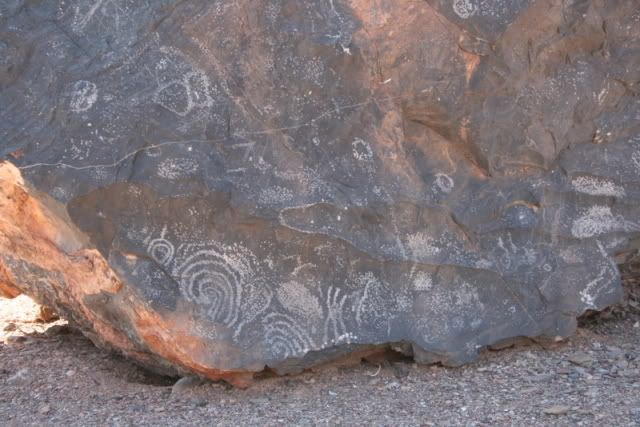 Kliptorinkietuin
Tin animal farm at Pofadder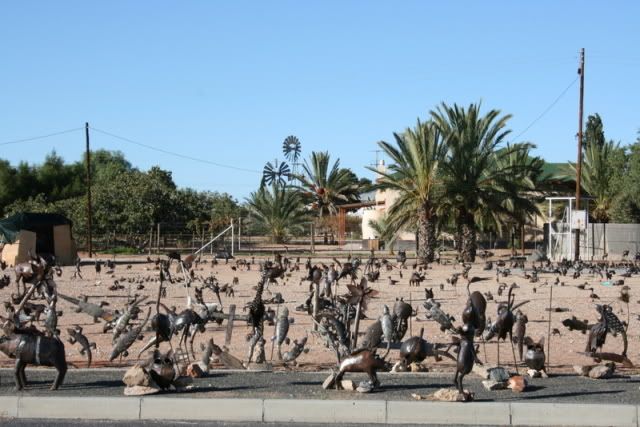 Boegoeberg se dam is 'n doodlekker dam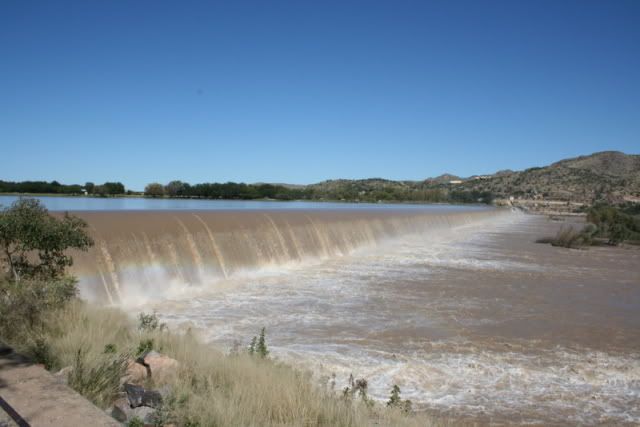 Witsand - Kalahari
Arriving at Witsand we booked in and proceeded to our campsite. The campsite is very clean and tidy and we found a nice spot, with some sun, as it was getting pretty chilly out in the afternoons as the sun goes down. During the 1st of our 2 day stay over, we explored the white Brulsand inside the park, which wasn't brulling as the sand wasn't dry enough because of some good rains in the weeks before our arrival. On our 2nd day, we drove a 4x4 route on a neighbouring farm. Nothing really challenging, but fun none the less. We experienced the first frost of the season on our last morning, when we descended the ladder of the RTT everything was covered in a layer of white frost. Even the water in the bottle that stood on the outside table was partly frozen. The thermometer inside the car showed -0.2 degrees C. We went from hot to freezing in less than a week. We thoroughly enjoyed our stay at Witsand, and we highly recommend it as a venue to stretch the legs for a couple of days and to recharge batteries. The facilities are 1st class and the staff is friendly and helpful all the time.
Working at "Die Boskantoor"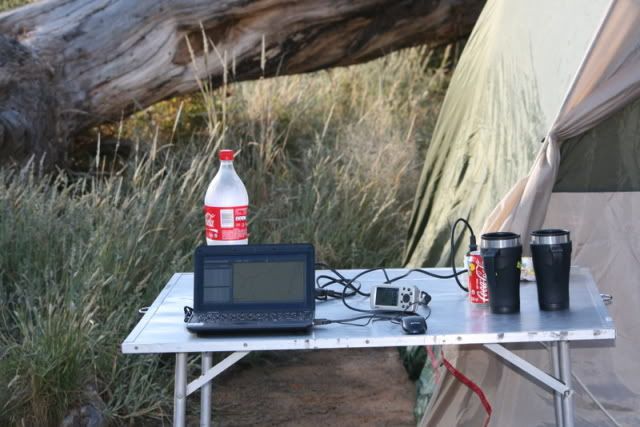 Very nice sociable weaver's neast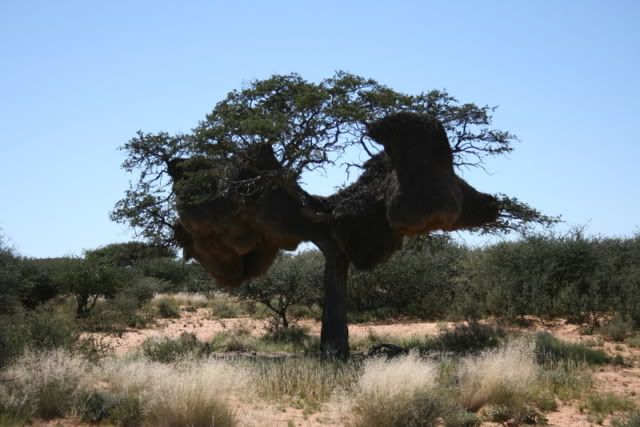 The white sands of Witsand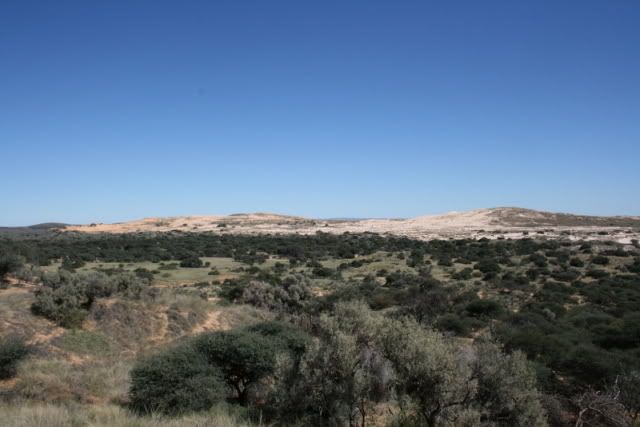 Interesting sign…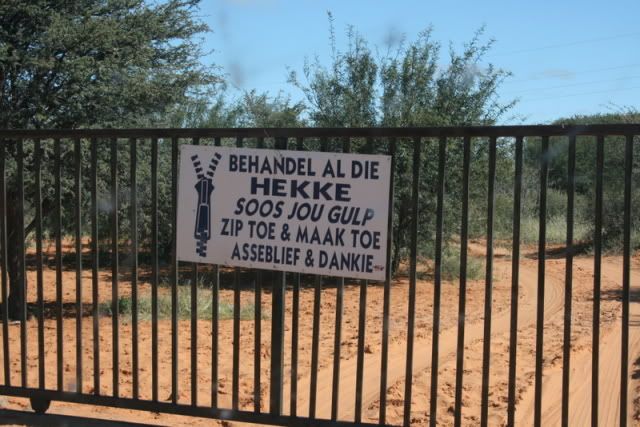 Chilly morning
Driving from Witsand we turned off to get to the Olifantshoek road to Upington. The D road we were on was really badly washed away and there pools of water all over the road. The veld is very green, signs that the area had very good rainfall during the rainy season. Eventually when we hit the tar, it was 80km to Upington and we took it easy as we had lots of time. In Upington stocked up on provisions again, especially the dried carbanossi's at the Pick 'n' Pay butchery. Lekkerder as droee wors, I tell you! Augrabies Falls On our last leg of the trip we decided to visit Augrabies again, to compare the levels of the falls to those we saw in January on our last visit when the Gariep was at its peak. This was pretty much a last minute decision, so finding accommodation was a bit of a hassle, but we managed to secure a chalet for 2 nights and a campsite for 2 more, at Augrabies National Park.
On our first day in the park we did a whole lot of nothing. Elismari wasn't feeling well after eating something that didn't really want to stay inside, so we were thankful for having a chalet with comfortable beds and a toilet nearby. Also I spent most of the day writing this trip report, consolidating all the GPS tracks and planning our route back home. O ja and chowing carbanossi's. We also took time out to wash some clothes so that we don't arrive at home stinking to high heaven.
Level of the water in the ravine
Giraffe in Augrabies NP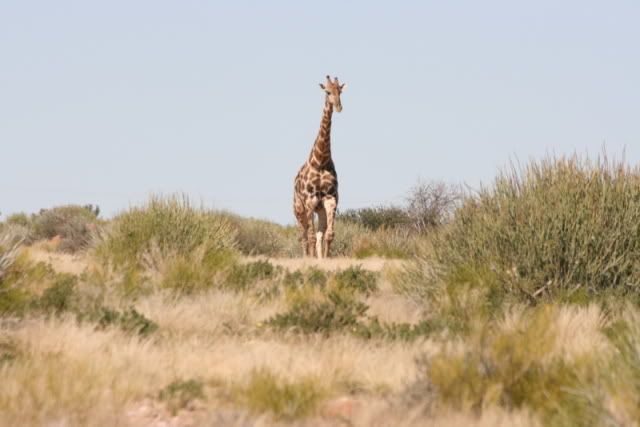 Kokerbook and nest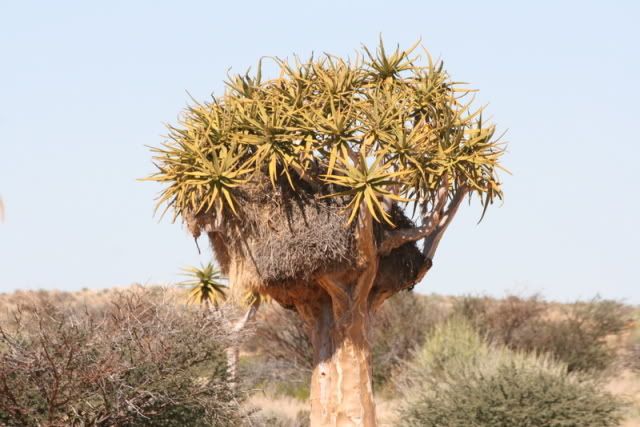 Klipspringertjie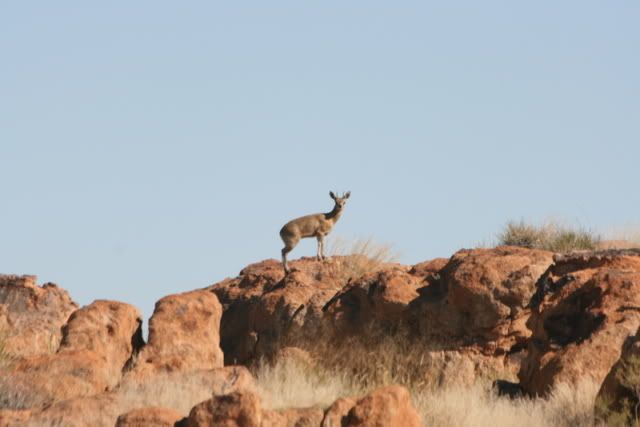 The main fall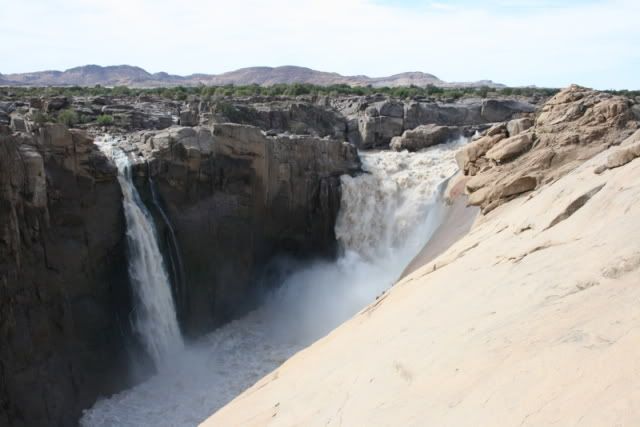 Sunset at Augrabies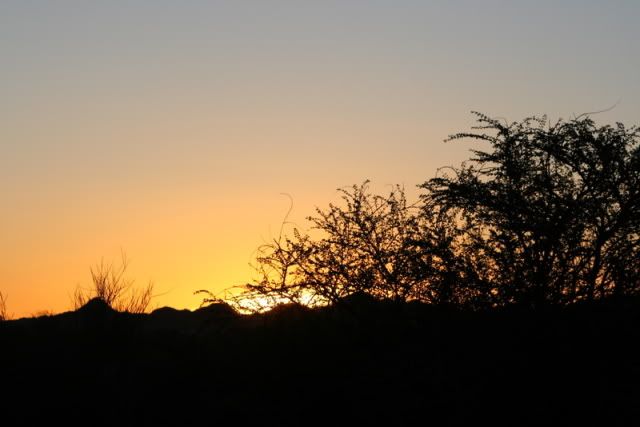 We spent the next day at Augrabies driving along the tracks in the park right to the bottom end. The scenery is awesome and everywhere the signs of good rainfall were visible. We even saw some giraffes, a klipspringer and lots of ostriches on the 6 hour drive. Just as the sun set that evening in the campsite at Augrabies a familiar face peeked round the back of the Ford. It was Johann of 3-Blind-Monkeys fame. They were on their way home to CT from Naukluft in Namibia after their 10 day holiday. I heard something about 2000+ photographs. I just hope we also get to see some of them. Anyway it was nice having a chat with a familiar face over a cold one and to share some of our experiences.
On the Sunday morning it was quite interesting to sit and watch just about everybody else packing up camp and getting ready to make the long trek home. Over coffee and rusks we sat in the early morning sun and watched the human animals going throuh the motions of packing up camp with the odd argument between mamma and pappa about what goes where and what should be folded in which way. Human Behaviour 101, a good way to spend a Sunday morning, and extremely entertaining. Our last day on tour was spent doing the normal Augrabies-touristy things. Believe it or not it was our 3rd day at the falls, and we havent even been anywhere close to the main falls yet. Seems like we go there too often. The falls are still spectacular after the recent floods as the river levels are still quite high. It is nice to have some pictures to compare with those we took in January.
Our last holiday braai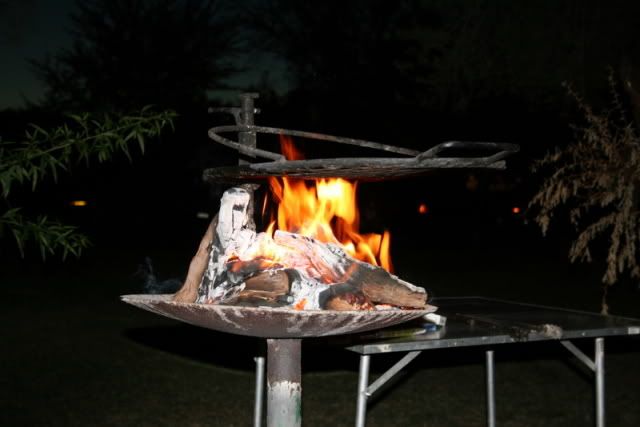 Where we came from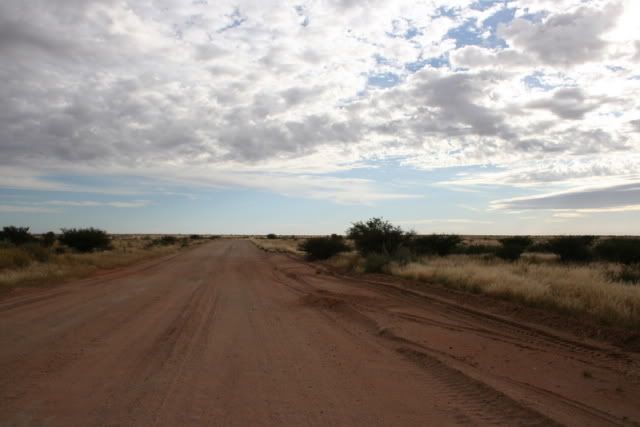 Where we're heading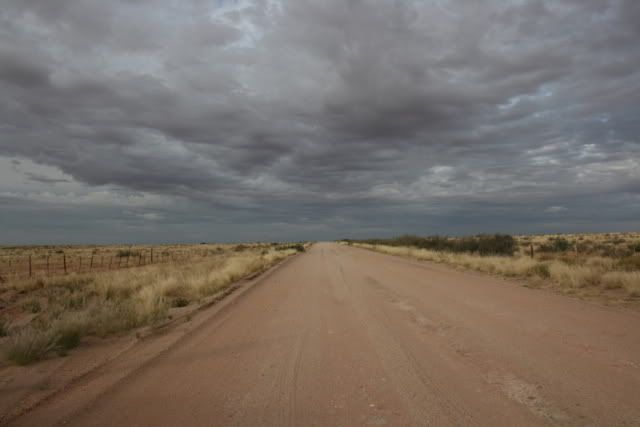 And then our day came for exhibiting the above mentioned human behaviour, but we started before sunrise, so I don't think the rest of the (by now just about empty) campers found it very entertaining. The road took us from Kakamas to Loeriesfontein via Granaatboskolk. A stretch of about 300km of dirt road with pretty much nothing to see besides Karoo veld. We hit rain just about 30km from Kakamas, and it didn't end until we got to Van Rhynsdorp. From there on it was pretty much plain sailing to CT and we hit Durbanville at about 6pm.
Lessons learned:
Surprisingly enough we can still drive for 13 hours after only 3 hours of sleep, and have a braai.
Those unexpected little mishaps makes the journey more interesting and challenging.
An early start in CT means no traffic over Piekenierskloof. What a pleasure.
Always carry a little lunchbox with spare nuts and bolts, of varying sizes, they might just help you out of a tight situation. In our case it was more useful than a hi-lift jack.
Thunderstorms in the desert are awesome.
April is not to early in the year to pack a beany.
A lazy day off is a good time to write a trip report, the memories are fresh and there are no outside interruptions.
My other half is a boskoskoningin, with her cooking in the bush we managed to each gain a few pounds.
Summary
It was a great trip, filled with good memories, fantastic sights and new experiences. The Richtersveld is amazing and offers fantastic vistas, rock formations and scenery. The tracks are tough in certain places, but the beautiful scenery makes it all worth while.
Witsand Kalahari is also something really spectacular, and our experience was first class. We'll be back for sure.
It is really amazing to see the vast numbers of overlanding vehicles travelling towards Namibia on the N7 and other roads. Every 3rd vehicle coming from the front was a platkar, the rest were SUV's, double cabs and bakkies towing huge off-road trailers and caravans. Convoys of them! I made a point of greeting each and every overlander that crossed our path, but sadly I must report back that the vast majoritydid not return my greeting. Make a difference, return the greeting!!
Vehicle of choice
Although we didn't use our trusty Kaspaas Hilux to do the trip, we never felt that we really missed his 4x4 capabilities, as the Ford was more than capable enough to handle the terrain with ease and in air-conditioned comfort.
Respect to the cheap Chinese 30" Merit All Country LXT tyres on the Ford. They managed to hold out beautifully, especially in the rocky terrain that the Richterveld threw at us. I am pleasantly surprised, as I expected at least a puncture or 2.
Distance travelled. We travelled a total of 3901km according to my Garmin Quest II GPS and I don't argue with that guy cos he's usually pretty spot on.
Fuel consumption? I decided not to let statistics like that spoil a fantastic holiday. Let's just say the RTT and strong headwinds, coupled with long boring stretches of N7 and N14 did make my right foot a bit heavy.
Will we do it again? At the drop of a hat!!